Why Mr Funniful?
My Mr Funniful Man dolls are half man half pig. They are named after Albert Richardson, who most famously recorded "The Old Sow" in 1929. The song has a line in the chorus..."Suzanna's a Funniful Man".... followed by pig noises. To hear an excerpt of Albert's original recording follow the link below:
About Albert Richardson - 1905-1976
Known to his friends as 'Laddie', he was born in Burwash, East Sussex on August 29th 1905.
He became the Sexton of Burwash Church, hence his stage name of 'The Singing Sexton'. He also worked as mechanic, a milkman and machinist. He was also the gardener at Burwash, bell-ringer and grave-digger!
Albert Richardson was a singer who bridged the gap between being a traditional singer and a stage performer and was influential in the revival of interest in a number of 'folk songs' in the early 20th Century such as 'Buttercup Joe' and 'The Old Sow' which were issued on 78 rpm discs by Zonophone in 1928, followed four years later by 'A Farmers Boy and 'Sarey' on another. One surprising fact is that there were a number of 'folksongs' recorded by some of the Music Hall singers and Richardson was to all intent and purpose a traditional singer, rather than a professional Music Hall performer. Contemporary publicity photographs show Richardson in a smock-frock, playing the part of the 'yokel' singer but his style was some way from the traditional. He later performed with The Crazy Gang and with Lesley Sarony , who also recorded Buttercup Joe and The Old Sow.During his short career he was taken by Jack Hilton to appear with Laurel and Hardy in Berlin and with Flanagan and Allen at the London Palladium.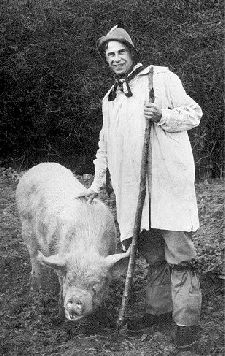 His also appeared on the BBC Picture Page programme with Leslie Mitchell and Joan Gilbert.
After joining the war effort with the RAF he was sent to Canada, and continued to entertain the troops. He was forced to leave the RAF after being injured swinging a propeller, and suffered chest and breathing problems thereafter.