Gertie Gitana
Born in 1887 in the Potteries, Gertie Gitana was one of the great musical stars of her day - as big then as Robbie Williams is now! John C Power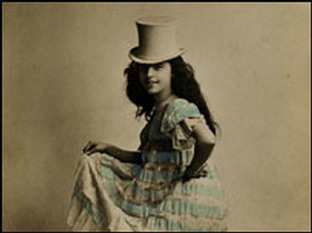 tells us more about this forgotten singer.
The Idol Of The People, they called her, the star that never fails to shine. Nowadays she is remembered only by a few, although many people will be aware of her most famous song, "Nellie Dean". Fame, as Marilyn Monroe once said, surely is a fickle thing when the singer is forgotten but not the song.
Super star
During the golden era of musical hall, Gertie topped the bill in every major city ranking with other great names of the halls such as Marie Lloyd, Lilly Langtry, Wee Georgie Wood and Wilkie Bard.
Even though these stars may have been more famous, Gertie was, according to Clarkson Rose, the most popular female variety act of her time.
At the turn of the 20th century, aged just thirteen, she was earning over £100 per week. During the London run of the revue "Nellie Dean" (based on the song) over two hundred thousand people paid to see her perform; and when she died in 1957, all the major newspapers of the day carried her obituary.
Bringing happiness
Gertie Gitana's simple ballads were not to everyone's tastes.
The Manchester Guardian once described her as 'swimming in a soup of sentimentality' and the Times thought she appealed to a more unsophisticated type of audience. But this misses the point for that is what the Music Hall was all about.
Music Hall was a place where ordinary working people could escape the harsh realities of daily life. In the early 20th century, life for the working man was hard with long hours, few holidays and little time for family life.
Her popularity is not difficult to understand. The sight of this diminutive star, singing of happier times, brought pleasure to the lives of thousands of ordinary men and women, working folk looking for unsophisticated, sentimental entertainment to brighten up their dull lives.
This was never truer than when Gertie performed "Nellie Dean". For audiences up and down the country, Nellie Dean represented an ideal. Men dreamed that Nellie was the girl on their arm. Women imagined they were Nellie.
Much of Gertie's success was knowing what her audiences wanted and giving them plenty of it.
The fading of the halls
After the First World War, popular tastes began to change. The old halls with their red plush and velvet, their balladee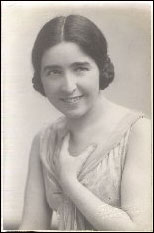 rs and smart songs gave way to the Charleston, jazz and syncopation.
Moving with the times, Gertie starred in several musical revues written specially for her by Norman Lee.
Firstly, "Nellie Dean" based on the song she made famous, and then "Dear Louise" which also featured Don Ross whom she would later marry.
Even though the nature of the music in these revues had changed, it didn't stop the audience from calling out for the old favourites. And Gertie gladly obliged.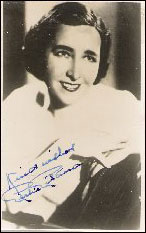 After several years in revue, she returned to straight forward variety with an act based on her old routines, to which she added several new numbers. But again, it was the old songs that remained the audiences' favourite.
Retirement
True to her intentions, Gertie retired when reached the age of 50.
However, in 1948, she did return to the boards for one last time when her husband Don Ross created "Thanks for the Memory", a stage show featuring former stars and the songs they had made famous during the Music Hall years. Widely acclaimed, the show toured for two years.
Even King George VI is said to have been visibly impressed when it featured as part of a Royal Variety Performance.
Thus it was that the Idol Of The People transformed herself from the Potteries' song bird to revue star (with band) and back again in a career that spanned over 60 years.
Biographical Details
"Gertie Gitana" was born Gertrude Mary Astbury on 28th December 1887 in Longport, now part of Stoke-on-Trent. Her mother Lavinia was a school teacher. William, her father worked in a pot-bank. She began her stage career at the age of four with a Potteries-based entertainment act called Tomkinson's Gipsy (later 'Royal Gipsy') Children's Troupe – this is not a well-known fact - under the stage name 'Little Gitana' ("gitana" means gypsy girl in Spanish and Italian).
By 1900 she was performing as a solo artist under the management of Jimmy and Belle O' Connor who were to have a major influence on her future career both as musical advisors and adoptive parents. In August 1907, she first performed what was to become her most famous song, "Nellie Dean" written some years earlier by Henry Armstrong.
Her music hall career developed throughout the 1900s until she was eventually topping the bill at halls nationwide. During the war years (1914-18), Gertie became the forces' sweetheart performing at charity events, visiting wounded soldiers and raising funds for disabled servicemen.
he 1920s saw her changing with the times and starring in two revues, "Nellie Dean" (1925-6) and "Dear Louise" (1926-7), before returning to a more conventional form of variety. In 1928, she married Don Ross, fifteen years her junior, who had appeared with her in "Dear Louise".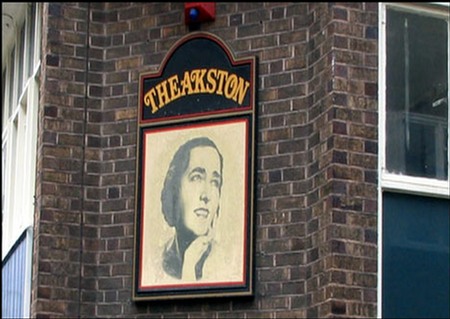 "Nellie Dean" may remain her most famous song but there were many others she made popular at the time, notably "Never Mind", "You Made me Happy for a While" and "Silver Bell".
Although she retired in 1938 she was persuaded into a comeback by Don Ross to take part in his show, 'Thanks For The Memory' which ran from 1948-1950.
Four years later, as recognition of her achievements, Stoke-on-Trent City council renamed Frederick Street, Hanley, where the Astburys had once lived, Gitana Street.
Gertie Gitana died from cancer in 1957.
Gertie Gitana pub sign
Some local pubs have been dedicated to Gertie. 'Gitanas' in Hartshill was one, and this pub-sign above is, even now, still to be seen to this day on a wall to the rear of what was the old Theatre Royal in Hanley on the street named after her - Gitana Street.